What's Up Durham?
New Bowmanville Valley Trail extension links kilometres of trail through downtown to the waterfront
The Municipality of Clarington officially unveiled a new 600-metre extension to the Bowmanville Valley Trail, linking the existing path from the neighbourhood on Baseline Road, south under Highway 401 to the Waterfront Trail.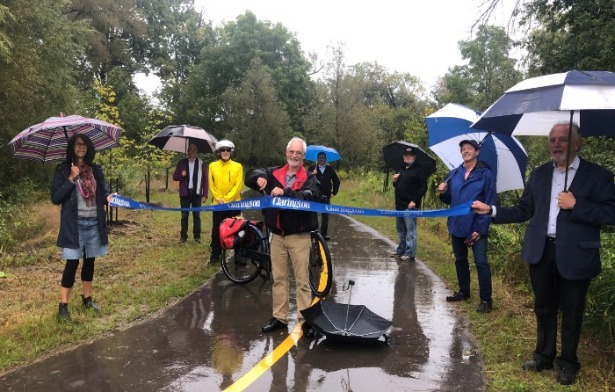 "This is a remarkable space in the heart of Bowmanville, allowing our residents access to nature and our magical waterfront. This is a critical connection and part of a larger plan as we continue to upgrade and build new trails to enhance our existing network," said Clarington Mayor Adrian Foster.
The project includes a newly constructed pedestrian crossing allowing residents to cross Baseline Road safely as they walk along the trail. It was a complicated construction staged over several years, as the trail extension goes under Highway 401 and the existing CN rail bridge south to the waterfront. Some work was also done to upgrade 1.4 kilometres of the Waterfront Trail stretching from Bowmanville Avenue to West Beach Road to improve the overall experience.
"We are also working on several projects that will enhance the availability of green space in the heart of Clarington and will share more good news with residents soon. Stay tuned as the Farewell Creek Trail expansion is now underway in Courtice with a potential opening this fall," said Clarington Director of Public Works, Steve Brake.
The Farewell Creek expansion is an in-valley trail, which will branch and head toward Townline Road along Farewell Creek, with a potential future connection to a path in Oshawa.
About the Author
Bryen writes about local Durham community news, including regional events, municipality updates, entertainment, lifestyle, and the great outdoors. Email him directly if you want your business profiled or know a community member that deserves recognition - bryen@thelocalbizmagazine.com